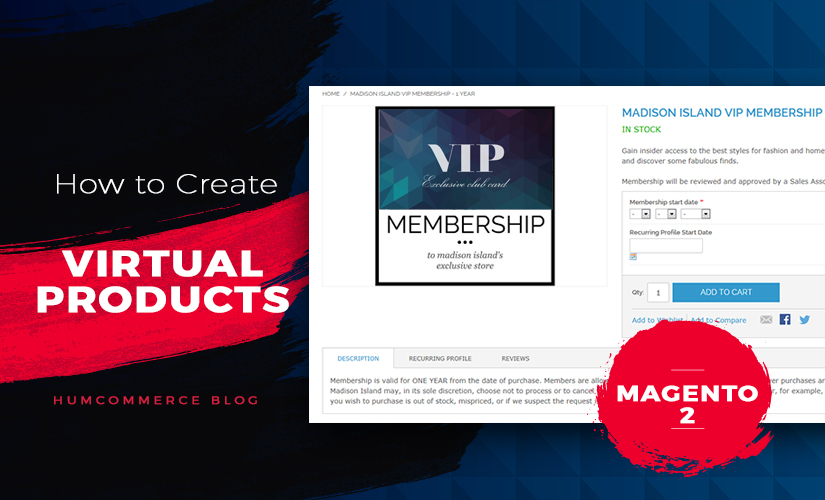 Virtual products are products which can't be shipped physically, for example, memberships, subscriptions, services or warranties. You can sell Virtual products individually or as a part of Grouped products or Bundle products.
The process of adding a Virtual product is very similar to adding a Simple product in Magento 2 except for the following:
As Virtual products are non-tangible, they don't have Weight attribute associated with them.

Virtual products don't require shipping information during checkout. Your customer will be asked for shipping information only if they have a physical product added to cart along with your Virtual product.
Creating Virtual Products in Magento 2
Step 1: Go to Products => Catalog (under Inventory)
Step 2: Click on the arrow near the Add Product button and choose Virtual Product from the drop-down list.
Step 3: You'll be displayed a New Product page.
Fill in the following details:
Enable Product: Set this to "Yes" to display your new product on the storefront.
Attribute Set: Select an attribute set for your new product. Follow this tutorial if you want to learn how to create attributes.
Product Name: Set a name for your new Virtual product.
SKU: Type in a unique Stock Keeping Unit identifier for your product.
Price:

Specify the product price.

If you're interested in advanced pricing options, we've created a tutorial on how to configure advanced pricing in Magento 2.
Tax Class: Set which tax class your product belongs to.
Quantity:

Set the stock quantity of your new product.

If you're interested in advanced quantity options, follow our tutorial on how to configure advanced quantity in Magento 2.
Stock Status: Set whether your product is "In Stock" or "Out of Stock"
Visibility: Set where you want your new product to be visible –

Not Visible Individually

Catalog

Search

Catalog, Search

Categories: Assign categories to your new product.
Set Product as New From-To: Set the duration for which your product will be displayed as "New".
Do you want to know more about the different sections of the New Product page? We have covered explanation of all the fields of the New Product page in our tutorial on how to manage products in Magento 2.
Step 4: Once you've filled in the necessary form details, click on Save button to save your new Virtual product.
The new Virtual product is now visible on your store front.
This concludes our tutorial on how to create a Virtual product in Magento 2. If you want to add this product to a Bundle product or to a Grouped product follow these tutorials –