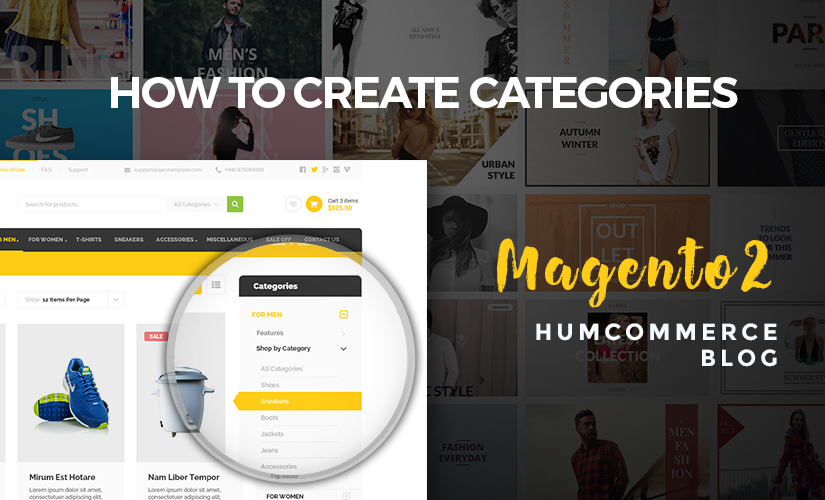 Do you want to organize your store? Let's consider you have an electronics store in which you are planning to sell multiple types such as MP3 players, mobile, headphones, etc. In this tutorial, we will guide you how to create new categories in Magento 2. You'll also learn how to configure and assign bulk products to it.
Product Categories are important because they are the primary tool that your shoppers use to navigate your store. It organizes your store for your customers. You can arrange them into parent and subcategories. Let's get started!
Step 1: Go Categories page
In your Admin Panel Go to Products => Categories.
 Step 2: Create Category
By default, Magento has Default Category as root. You can create another with different structures as per store and view, but only one is active in your store at a time. The Customer can not see it also there is no URL Key supported for it.
You are going to add your new category under Default. It must be the root unless you are planning to assign a new one for the website.
Here is your new category page.
Make sure you have selected correct store config if you have multiple stores(multi-store website).
Click on Parent category => Add Subcategory
'Enable': This activates your category.
'Include in menu': This will show category in the top navigation.
The content section:
'Category Image': You can assign a picture here
'Description': You can add the description for the category
'Add CMS Block':  Select CMS block you want to show on the category This block will only be visible if the display mode is static block only or products and static block.
Display section:
'Display Mode': This will decide the look of category landing page. You can select Static block only, Products only or Static block and products.
'Anchor': If you want to allow shoppers to filter products by this category, select yes for Anchor
'Available Product Listing Sort By': This will control which sort by options are allowed. It will allow the customer to sort product listing based on position, name or price. Select Use All to keep all the possibilities available.
'Default Product Listing Sort By': You can select default sort by method here, as you can see in above image default is Position.
The Search Engine Optimization section
'URL Key': You can add your custom URL. If you leave this field blank, Magento will automatically create an URL. URL should not include spaces plus it should be unique
'Meta Keywords and Description': Meta Keywords and Meta Description appear in meta tags, in the page's HTML code. Enter information about this page, which will help search engine optimization
Products in category section
Magento 2 provides an option of assigning multiple products to the category. You can assign bulk products to it by clicking on the checkbox.
Design Section:
You can personalize category page by assigning a theme and updating the layout.
Click on the Save button on the top right.
After creation, you can see this category appears under the default category.
End Result:
Hope this tutorial helps you to add new categories in Magento 2 effortlessly. Thanks for reading.