Tracking visitor activity is incredibly important for all e-commerce websites. Sales and orders are the lifeblood of their existence, so understanding where visitors come from and how they operate the site matter. Fortunately, this discipline is advancing every day, and there are numerous tools to help gain insights into customer behavior. There's no need to "fly blind" when making marketing decisions.
HumCommerce Is a Trending SAAS Tool for E-commerce Site Owners
One standout tool is HumCommerce. It's a SAAS service that can help store owners decipher analytics on any storefront platform. Unlock the ability to discover the critical metrics about customers and why the make sales. Arm your marketing team with precise information so the can optimize every aspect of the e-commerce user experience.
Heatmaps tell site owners a lot about how users navigate through their site. HumCommerce displays an overlay that shows precisely which pages and sections receive the most clicks. This information goes a long way towards helping your web dev team streamline and improve ordering.
Discover How to Heat Your Visitors Up
HumCommerce tracks three kinds of heatmaps, each with a specific action that relates to ordering.
Clicks are straightforward events. People click on a link on your website due to interest. This type of tracking shows you the most popular pages and paths on your store. Knowing this information will allow you to analyze each page for more details.
Moves are a bit more subtle. These events show that people have interest and are placing their mouse above certain sections of the site. They may not always take action because they're looking for more detailed information or are unsure of which route to make next.
Scroll events are what they sound like precisely. When a visitors scrolls a page looking for more information, a scroll happens. HumCommerce tracks these scrolls and offers analysis about how they impact your store. Discover which part of the page captures their interest and learn ways to enhance their visits.
Visitor session recordings open up a new world of optimization possibilities. See how visitors traverse your navigation and use your store. You may learn that they are taking actions with not benefit, so you can streamline your navigation and design to push them into your product pages. There's no use allowing poorly performing pages to continue to exist.
Recorded Sessions Yield Insights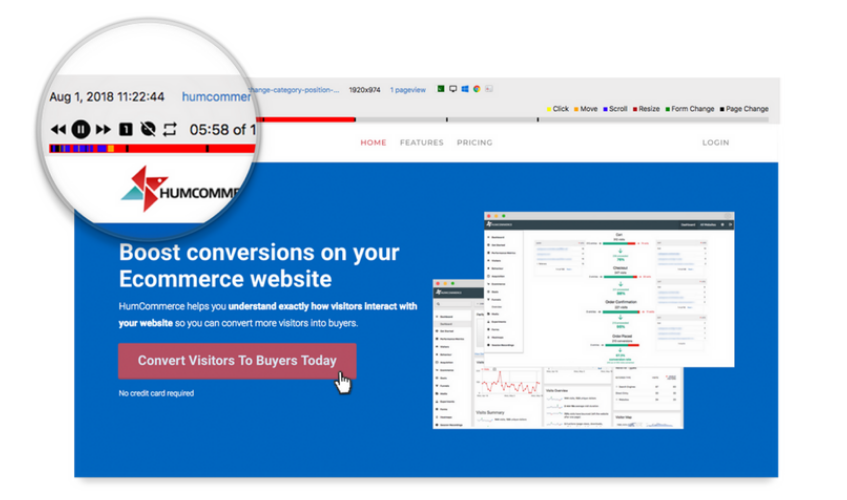 Being able to watch a recorded session lets you put yourself in the shoes of site visitors. You'll experience the navigation in the way do, which may allow you a glimpse into how they perceive your store. That helpful information can shape policies and optimization principles that result in higher conversions. Without detailed tracking, there's not much of a way to make changes based on data.
E-commerce insights give you actionable data about shoppers. You can learn your abandoned cart rate so you can implement a program to close more sales. Discover which product is the most profitable and which ones are not selling. Insights at the tip of your fingertips allow understanding your business at a glance.