Of the 100 people who land on your ecommerce store only about 3 buy. Your challenge, as a store owner, is – how do you get more people to buy?
You have two options:
Drive more traffic, or
Improve your website so that more people buy
The first option is an expensive one with no guarantee of high sales.
The second option is cheaper and will guarantee an improved conversion rate.
Improving the conversion rate of your store is cheaper than driving more traffic. Here's how:
Let's suppose you get 30,000 visitors to your ecommerce website every month. Of which around 300 buy. If you improve conversion by just 1%, you'll get 100 new buyers. Instead, if you choose to drive more traffic, you'll need 10,000 more visitors.
Whether you choose to do paid ads or optimise your store for search, driving 10,000 visitors is expensive. On the other hand, a conversion optimisation tool like HumCommerce costs less than $50 a month. We even offer a free account if you're just getting started.
Let's take a look at how you can work on improving your conversion funnel.
What's an ecommerce conversion funnel?
Ecommerce conversion funnel
An ecommerce conversion funnel is a flow from the landing page to order confirmation.
How can you optimize your ecommerce conversion funnel?
One way is to have to look at what visitors are doing on your website.
You should be able to track the movements of visitors and look at where they are clicking on the website.
Basically, stalk your visitors!
Well, this is healthy stalking. You'll get an idea of what your visitors are not liking and where the scope of improvement is.
You need a tool, a really good one
HumCommerce is what you need. You can signup to HumCommerce for free and start using it.
I love how this CRO tool is so specific to eCommerce. Really lets us dial in on each stage of our customer journey and fine-tune drop off points quickly in our funnels. Within the first day of installing we had already made positive iterations on the back of the data HumCommerce provided us.

– Todd Hamam, Coleman Collection
What'll HumCommerce do for you?
It'll enable you to:
Record visitor sessions
Generate heatmaps
Conduct A/B testing
and much more.
Recording visitor sessions
Looking at website visitor sessions gives you a better understanding of their behavior.
You can look at what a person is doing on your website using HumCommerce.
How cool is that?
Record tons of visitor sessions and then look at them one-by-one to find out what's holding them from buying.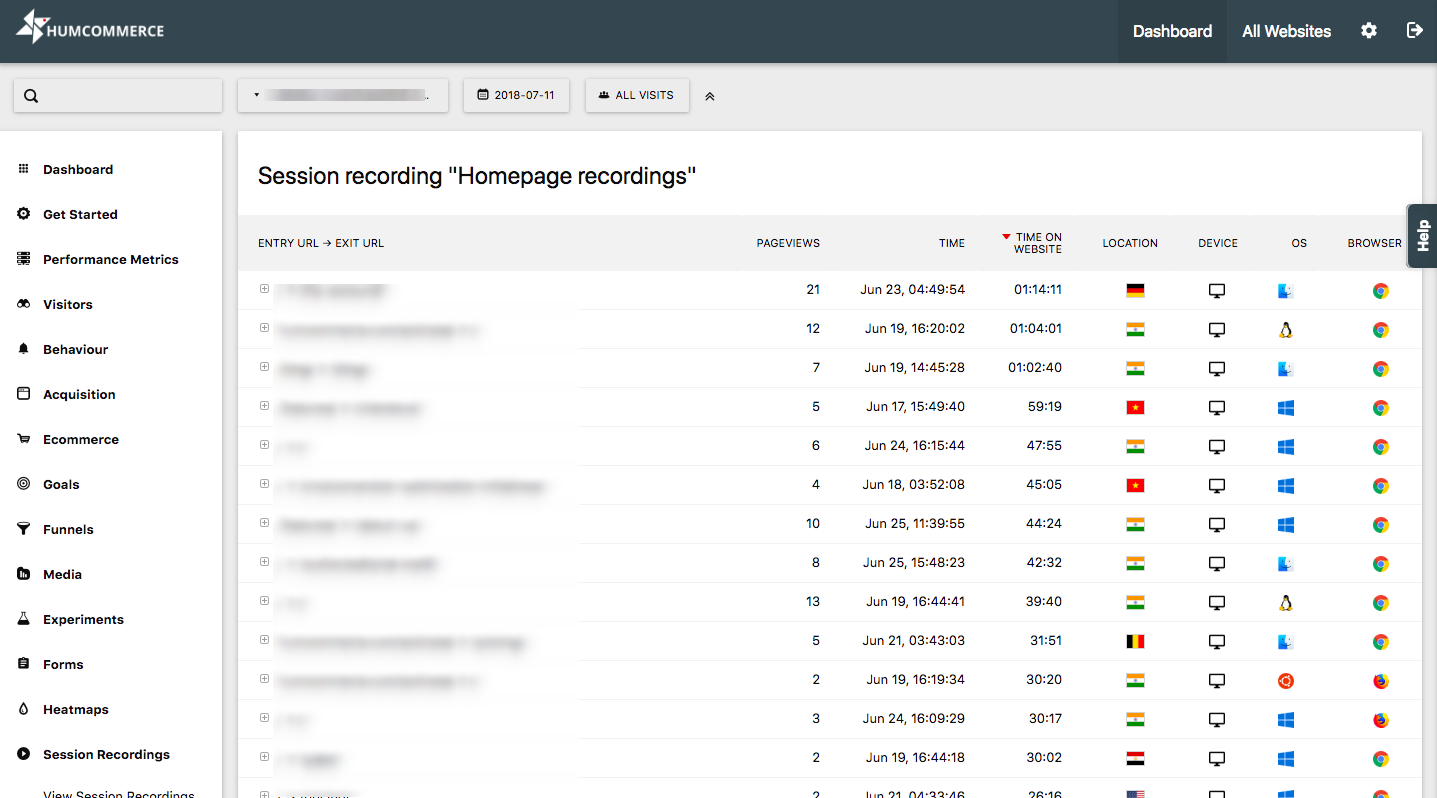 HumCommerce session recordings feature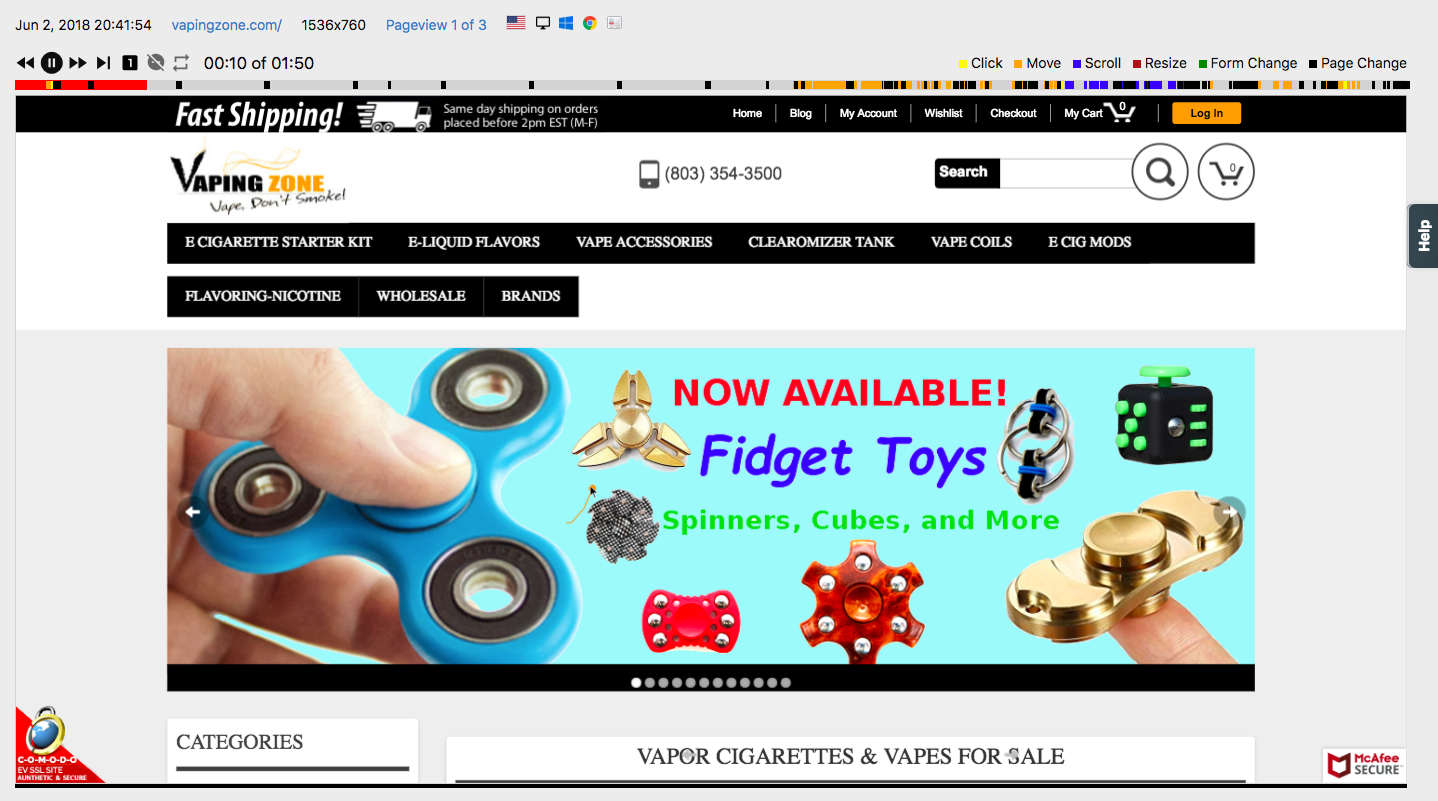 Playing a session recording on HumCommerce
Jot down points while looking at the recordings. Work on those points.
You can record all the sessions or even particular pages of your website. For instance, you can record only the checkout page to see what visitors are doing there.
Generating heatmaps
Another helpful tool that can come in handy is heatmaps.
I've used HumCommerce and another similar service, I can't speak highly enough of this app. Viewing my customers' heatmaps and seeing what they do has allowed me to find errors in my website. I would probably have never found otherwise.

– Kerry Webb, Webb's Essentials
Heatmaps will show which areas on your web pages are most interacted with.
These can be helpful to find out which CTA's are working and which aren't. They also tell you how much the visitors are scrolling on your website.
Let's take a look at the types of heatmaps that HumCommerce features.
Click Heatmap
A click heatmap shows the exact number of clicks on specific elements on your page such as links, text, images, etc.
Move Heatmap
A move heatmap will highlight the areas where the arrow movements take place on your page. It gives you an idea of where the attention of the visitor is being focussed.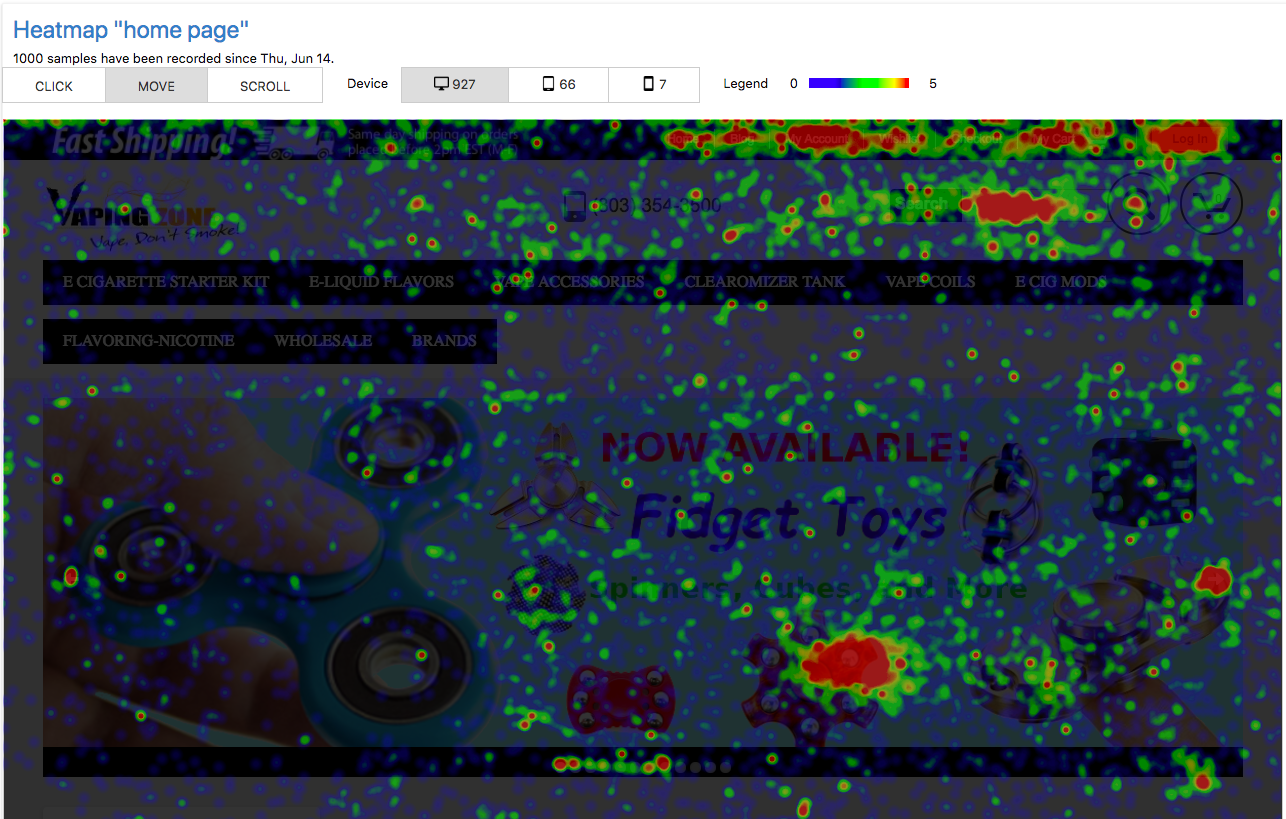 You can see above in the orange area where most of the movement takes place on that page.
Scroll Heatmap
Scroll heatmap tells you how far down has a visitor scrolled on your webpage. Look at the scroll percentage to get an idea of what interests the audience and what doesn't.
Above image shows how the percentage decreases as we move down the webpage. You'll have to make appropriate changes to your pages so that more visitors scroll to the end of the page.
In a few easy steps, you can create heatmaps using HumCommerce. Use the heatmap data to optimize the steps of your conversion funnel.
Set up A/B testing on your ecommerce website with HumCommerce
It is always wise to A/B test your web pages. A/B testing will help you narrow down to the best performing page.
Analyze the A/B test results to improve conversions by making changes.
But, how do you know these changes will work?
You'll have to create two versions on the same web page and show it to your audience. The web page with most engagement is the page you want to use.
A/B testing using HumCommerce is very easy and useful.
How to optimize ecommerce conversion funnel?
Let's take a look at how to optimize the different steps of an ecommerce conversion funnel.
Step 1: Product page optimization
So, you've managed to bring a visitor on your ecommerce product page.
Now you want the user to move from the product page to the next step of the funnel i.e., the checkout page.
For this to happen, your user should find the product and the product page appealing enough to buy.
Note: We've referred to Coleman Collections for examples.
Have a clear call-to-action (CTA)
As an ecommerce store owner, you aim to get clicks on 'Buy,' 'Buy Now,' 'Add to cart,' or whatever your main CTA button is.
Coleman Collection has used their CTA at the center which is above the fold so that the user doesn't have to scroll down for buying. The 'add to cart' button has a contrasting color which attracts attention.
High-quality product photos
The buyer needs to know what exactly they're buying. Product pages should have high-quality product photos. Visitors should zoom them to get a better understanding. Good product images increase the conversion rate.
Product videos
Having product videos on the product sales page increases sales by 6% to 30% (Source). Videos are the best way to give a better understanding of your product. It boosts the conversion rate.
Provide right amount of details to the customer
As you see above, Coleman Collection provide precise details about their product. One should find enough information to feel comfortable before buying the product.
Less product information affects the conversion funnel.
Social Proof is a must
No matter how good your products are, if they don't have reviews, chances of selling are less. The first thing people check on the product pages is positive reviews.
Social proof builds trust. Positive reviews and testimonials boost sales and improve the conversion funnel.
First-Person testimonial is a great way to build consumer trust and encourage purchasing behavior.
Step 2: Cart page optimization
Cart page is the page between the product page and checkout page.
Here, the user can review all the items they've added to the cart. You can add or remove products from here.
How can you optimize the cart page?
Let's take a look at Nike's cart page.

They've placed the 'remove' and 'edit buttons just below the product info. It's a perfect example of ease of access.
Mentioning the return and refund policy is vital. It builds trust.
Apart from this, the shipping details are also available.
They've done cross-selling as well in the 'you might also like' section.
All these elements combined make an ideal cart page.
Step 3: Checkout page optimization
The next step of the conversion funnel is Checkout page optimization.
Cart page optimization is crucial. This page will either make or break the sale. The user has two options – Either abandon the cart or go ahead and buy the product.
Your aim is to reduce shopping cart abandonment.
Asking for unnecessary information during the checkout process leads to cart abandonment.
1 in 7 people faces a problem with online shopping according to a report from England's Office of Fair Trading.
Other two-thirds of shoppers worry about unauthorized access to their personal information.
50% of customers who engaged in ecommerce worry losing their money to scams.
Check out the reasons for cart abandonment and what you can do to overcome it.
Conclusion
Optimizing your ecommerce conversion funnel is the best way of increasing sales. This does not mean that you should stop trying to get traffic to your website.
The combination of an optimized conversion funnel and a good amount of traffic is the key to succeding in the ecommerce business.
You can also check out our beginner's guide to A/B testing in ecommerce.