When it comes to analyzing your e-commerce store, it is very important to choose the right tool. Having a wholesome tool that provides multiple features is better than multiple tools with limited features.
HumCommerce is a robust behavioral analytics tool.
These nine features make it the perfect SaaS tool to increase the conversion rate of any e-commerce store:
1. Heatmaps
2. Visitor session recordings
3. E-commerce conversion funnels
4. A/B testing
5. User's flow
6. Search engine keywords
7. Form analytics
8. E-commerce insights
9. Custom reports
Let's take a look at each one of them.
1. Heatmaps
Heatmaps show interaction data on your website. It shows where your visitors are clicking, where they move their mouse pointer and to which section they scroll down to.
Heatmaps in HumCommerce show this data for interactions recorded on different devices – desktop, mobile, and tablets – separately.
HumCommerce shows 3 types of heatmaps:
Click

Designed to show the elements of a web page that are clicked on the most. Clicks can be on any element of a webpage, be it a text, link, photo, or even whitespace.
They are useful for showing the elements that are most popular on a page.
Click maps are also used to detect usability flaws. For example, dead links that do not go anywhere could indicate that the users are finding it hard to navigate your website with ease.
Move

These are also called hover maps or even attention maps; they identify the parts on the web page in which users remain stationary. Many users tend to move their mouse where their attention is focused.
If they stay fixed in this area, it will be captured by a mouse movement map. This behavior would be of help to understand the type of content that users find interesting or relevant on your website.
Scroll
These are used to visualize how far visitors are scrolling down a webpage. It shows the percentage of people scrolling upto a particular part of the page. Scroll maps show the section of your website that users spend most of their time on.
Learn how to set up Heatmaps using HumCommerce.
2. Visitor session recordings
Session recordings let you see what visitors do when they come to your website. You can look at what part of your web page attracts their attention, where they skim past content and where they try to click.
It's possible that your visitors are interacting with your web page in a manner which is not quite beneficial to you.
You may want them to click on the CTA button such as add-to-cart, or a particular product or category you're trying to promote.
You can use session recordings to optimize your website around customer behavior.
Learn how to set up visitor session recordings using HumCommerce.
3. E-commerce conversion funnels
Find bottlenecks in your sales funnels and optimize for better conversions. See at which step visitors abandon your website. Improve your funnel conversion rate to maximize profit.
Use HumCommerce to create e-commerce sales funnels that will help you identify the use flow better.
Learn how to create an e-commerce sales funnel using HumCommerce.
4. A/B Testing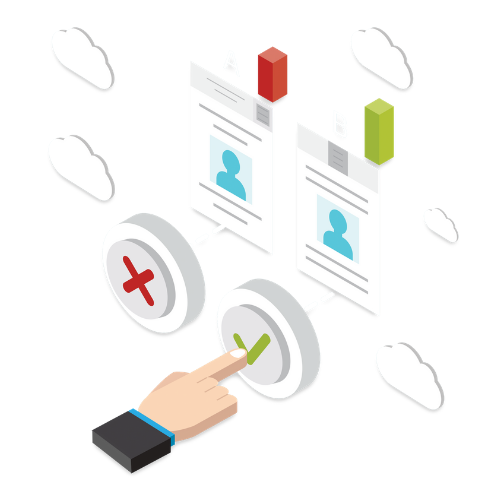 A/B testing is also known as Split Testing or Bucket Testing. It is an experiment that is used to compare two different versions of web pages.
This feature of HumCommerce allows you to compare two different versions of a web page by using live traffic.
A/B testing can involve tracking,
how visitors are interacting with pages,
whether they are watching videos or not,
if or not they are signing up, what are the buttons they are clicking upon, etc.?
You can quickly assess the most effective page out of the two options.
Learn how to do A/B testing using HumCommerce.
5. User's flow
With Users Flow, you find out which paths your visitors or users take in your website or app. Find out if your call to actions really work, find the parts of your website or app where your users get confused, find bugs.
You can understand your visitor's path to conversion or purchase, discover high drop-offs on pages and more. Based on this information you can improve your website to increase your conversions rate.
6. Search engine keywords
Search engine keyword feature gives you the exact list of all keywords searched by users on these search engines such as Google, Bing, Yahoo!.
Once you have configured the Google and, Bing+Yahoo! Search Keywords imports for a website in HumCommerce, two new reports will be available:
Search Keywords: It gives you all keywords searched by your users across all search engines. For each keyword, you get the number of clicks, the ClickThrough rate, the number of impressions, and the search result position of your website for this website.
Crawling overview: It allows you to view robots crawl related information such as errors encountered when visiting a page, items blocked by your robots.txt file and URLs that are potentially affected by malware.
7. Form analytics
Form Analytics gives you powerful insights into how your visitors interact with the forms on your website. The plugin adds many new segments, reports, and widgets to your HumCommerce that help you find the pain points in your forms. This lets you ultimately optimize your forms and maximize your success.
Learn how to set up form analytics.
8. E-commerce insights
Product performance
Check how your product performance individually based on the revenue, product conversion rate, visits, etc. Product performance gives you an idea of which products you should be focussing on to improve sales.

Abandoned Carts
HumCommerce provides all the abandoned cart data to you. You can check how much percentage of your visitors end up abandoning the cart and how much revenue was left in the cart.
Sales data
Get in-depth knowledge of your buyers. Know the source of every sale that happens in your store. Sales data will give you an idea of where you should be focussing more on.
9. Custom reports
The standard reports you get with HumCommerce might not always fit everyone. Custom Reports lets you create new reports in HumCommerce to get the insights you need in order to reach your goals and to optimize your website. You can choose from over 200 dimensions and metrics as well as different visualizations.
Custom Reports for HumCommerce gives you 100% data ownership and full control over your data.
You can view custom reports just like any report in HumCommerce. These reports support all the standard features like "Row Evolution", "Pivoting", "Segmented Visitor Log", and much more. You can also add any custom report to your dashboard and include them in your scheduled reports.
By default, you can find a custom report under the "Custom Reports" category in the reporting menu. While configuring a custom report, you can also choose to show a report under any other existing reporting category or even add a report to any existing reporting page. If you, for example, choose to create a new custom report that shows more insights about cities, you can add the report to the "Visitors => Locations" page to view all the location reports at a glance in just one place.
These are the 9 key features of HumCommerce.
If you have any issues while using HumCommerce, drop us a mail at support@humcommerce.com. Our support team would be more than happy to help you out!