Conversion Rate Optimization (CRO) of an ecommerce website is a legitimate concern for store owners and marketers. You are getting a significant amount of traffic, but the problem is people are not buying from your store as much as you expected.
If you are monitoring your eCommerce conversion funnel, you will notice that the drop-offs happen right from your homepage to the checkout page.
So, to ward off cart abandonment and to maximize sales, we will look at a comprehensive checklist of 25 actionable tactics that can help you in eCommerce conversion optimization for your store.
Ecommerce Conversion Optimization Checklist
For the ease of comprehension, we have divided the checklist into the following sections:
Sitewide Optimization
Homepage Optimization
Product Page Optimization
Cart Page Optimization
Checkout Page Optimization
Cart Abandonment Strategies
Let's dive in!
Sitewide Optimization
Before we dig into the customer buying stage-specific techniques, it is necessary to have the fundamentals right. Here are 3 things you need to implement across your website.
01) Responsive design
Due to the huge shift towards app usage, many ecommerce websites have gone app exclusive when it comes to smartphones. But doing that restricts you to reach out to the users who are not willing to download and use your app. You need a responsive website for casual lurkers before they become your long-term customers.
02) Header and Footer Section
Every page on the website barring the checkout page should have a header and footer section. The header should ideally consist of the navigation menu, a search bar, a cart shortcut, login/register links, app links and so on. Next and Best Buy offer a good demonstration of it.
And the footer should have links to pages such as company information, privacy policy, shipping and returns, contact details, social media accounts etc. Here is an example of JCPenney.

03) Optimize Site Speed
An average user today will wait for only 3 seconds for the website to load. If your website takes more than 3 seconds to load, you risk losing a customer. Slow websites also get penalized in search engine rankings. To optimize load speed, compress image size without impacting their quality, minimize redirects, minify JavaScript to name a few. Test your website with Google's PageSpeed Insights tool to get a comprehensive report.
Homepage Optimization
The homepage of your ecommerce store is the equivalent to the storefront of a retail store. You need to make a solid first impression on passersby to intrigue them to visit your store.
Whether you need optimize your Homepage or your complete eCommerce website. You can find plugins for your online mart or an SEO tool to optimize your site.
There are plenty of free WooCommerce plugins and WordPress plugins. You can find them in the WordPress repository. Additionally, implement these 4 tips to ensure your visitors buy from you.
04) Homepage Header
The header section is where you display the primary menu, navigation, search, cart shortcut, login/sign-up etc. Along with these options, you can also highlight your shipping and return policy or offers. Nike does it nicely by displaying its subsidiaries in the top header section. The website also displays its policies and offers in a carousel.

05) Homepage Slider
When a visitor lands directly on the website, the first thing they will see is the homepage slider. To grab their attention from the get-go, highlight new arrivals, festival discounts, cashback offers or any offers you may currently be running.
06) Highlight Deals and Fast Sellers
After displaying the main offers and discounts in the above-the-fold section, you can showcase your popular, top selling products, deals and top categories on the homepage. You can take it a step ahead by customizing the homepage based on the visitor's browsing history. Here is how Amazon does it. Notice how the Related to items you've viewed section personalizes the user's shopping experience:

07) Customize Currency Based On the Country
Do you ship products worldwide? If so, you can set up different websites for different countries to make the shopping experience better. But if you don't intend to go for the solution as of now, you can customize the experience by allowing them to choose the currency based on their country. Doing this will make things easy for the buyers by taking out the hassles of currency conversion calculations.
Below is an example of how you can select the country and currency on WWE's ecommerce website:

Product Page Optimization
The product page is what convinces the visitor whether or not to buy from you. It is easy to get bogged down by the number of elements on product pages that contribute to the eCommerce conversion. To make it simple to understand let's categorize them as visual elements, text elements and finally, the call to action. Let's look at 5 product page elements that can dramatically increase your c
onversions.
08) Product Images
Humans retain visuals more easily compared to text. Therefore make sure the primary product image hooks the visitor as soon as they land on your page. Since ecommerce websites don't offer the tangible product experience, multi-angle product images is closest you can go to giving the said experience to your users.
Grainy, blurry images are a big no-no. Keep only high-res and high-quality images on the page.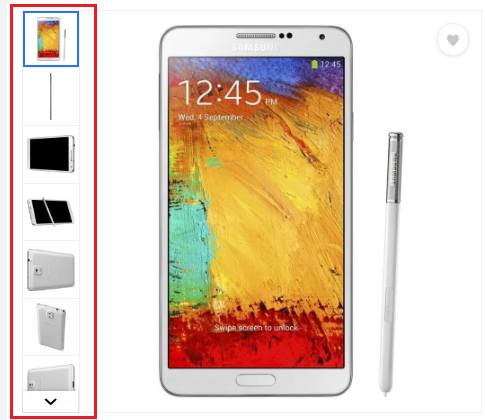 Also, allow the visitors to explore the product by zooming into the product whenever the hover the mouse over the image.

09) Product Description
The product description is the second persuading element after product images. To make your copy compelling, mention the product USP at the beginning of the copy. Remember, people don't read, they scan.
Keep a summary/specifications section where visitors can glance to get the gist of the product. You can also keep a detailed description where savvy buyers can get all the details they need. Avoid making tall claims about products which visitors can easily see through.
Keep information such as discounts, cashback, EMI, bank offers etc. next to product images so that visitors are enticed to make faster decisions. Also, take out the anticipation part by clearly mentioning the expected delivery date. Below is an example:

10) Size guide
If you are a clothing or footwear retailer or sell any size based product, put up a size chart on product pages. Different brands or ecommerce stores follow different size specifications, therefore having a size chart on the webpage helps shoppers make an informed decision.

11) Call to Action
Your call to action buttons prod the shoppers to take an action. Buy Now/Add to Cart is hands down the most important call to action (CTA) on an ecommerce website. Therefore, make sure it stands out on the entire page. Make the primary CTA prominent by emphasizing it with the help of striking color and size of its button.
Your secondary CTAs might include buttons such as Add to Favorites, Add to Wishlist, and social sharing buttons.
Zappos does it by establishing a hierarchy of CTAs as below:

12) Reviews and Ratings
Social proof is one of the key criteria on which shoppers make the purchase decision. Product reviews and ratings give shoppers a peek into the product quality and your service as well. Encourage verified buyers to leave reviews on the website. It's alright if you receive a few negative reviews in the process as you will be perceived as a dependable brand.
13) Present Scarcity
Another surefire way to increase eCommerce conversion is to portray a product as a scarce entity. Telling your buyers that 'Only 3 products remaining in stock' will push them to buy the product straight away.
14) Upsell
You can personalize the shopping experience by recommending your shoppers products which are in the similar category. Known as a collaborative filtering algorithm, it makes recommendations based on purchases made by users in the past.


Cart Page Optimization
Before making the purchase final, customers get to review their order in the cart. Here are 3 simple ways you can incorporate to increase the conversion rate of your store.
15) Display Hidden Fees
If you charge extra for shipping and delivery, be upfront about it, and show the costs on the cart page. Not doing so, might lead to cart abandonment during the checkout phase. IKEA calculates the delivery charges based on your region.

16) Allow Shoppers to Edit Cart Items
Providing shoppers with the option to either change the quantity or completely remove the item from the cart. Zappos offers these features along with the ability to move the item to a shortlist.

17) Provide Continue Shopping Option
Sometimes consumers want to review their cart before continuing with purchases. In such cases, a CTA such as Continue Shopping makes it intuitive for the buyers to carry on. But remember to make it a secondary CTA here. The primary CTA in cart phase should be Proceed to Checkout. Coming back to Zappos again:

Checkout Page Optimization
A sloppy checkout process makes your ecommerce store prone to cart abandonment. To avoid this from happening, let's look at 5 key ways to achieve this and boost eCommerce conversion rate.
18) Remove Interferences
During the checkout process, you want to keep anything that might interfere with the checkout process to a minimum. Do not keep the navigation, header menu, search, and footer on checkout pages.
19) A Simple Checkout Process
A series of coherent steps ensure a smooth checkout process. Avoid collecting information that is not pertinent to the checkout process. (e.g. questions such as How was your overall shopping experience?) Ask only for information such as personal details, shipping and payment details. If you are using a multi-page checkout process, make sure to mention the stage at the top of the page.
20) Pre-fill Existing Information
During checkout, there are certain fields such as name, billing/shipping address, card details (If the user has agreed to) etc. which can be fetched from the existing user details. Do not ask the user to fill such information over and over.
Amazon makes a good illustration for the above three points for the checkout process. Notice that the navigation is absent, the checkout process is well laid out at the top and the address (the blurred part) doesn't have to be entered again.

21) Offer Different Payment Options
Apart from traditional payment options such as COD, credit/debit cards and net banking, allowing payments through digital wallets such as Android Pay, Apple Pay, Paypal, Amazon Pay, Samsung Pay etc. helps the ease of payment. If you are looking to increase the adoption of a newer technology such as digital wallets you can incentivize it by offering cashback or discounts.
22) Ensure Trust and Security
Reassure your customers that their payment details are safe with you. To do that host your website on an HTTPS server. Display SSL certificate and any such badges on the website that will establish that trust. Here's how Jabong has done it:

People tend to be risk aversive. Therefore link your shipping, return policies, money-back guarantee etc. below the main CTA on the checkout page.
Cart Abandonment
All the strategies and tactics we have seen so far are intended to optimize the eCommerce conversion rate. Despite this, cart abandonment will happen. To curb the abandonment as much as we can, let's take a look at 3 ways.
23) Use Pop-Ups
Pop-ups have gained notoriety for being interruptive, but they work great when implemented correctly. You can set different contexts to trigger pop-ups. They can be time-based, content-based, scroll-based or exit-intent. If you want to increase the chances of visitors purchasing from you, offer them a discount through pop-ups like below:

24) Remarketing
Reach out to shoppers who have already visited your website with the help of remarketing. Every major social media platform along with Google allow you to run remarketing campaigns. Create a segment of users who have visited your website but didn't make any purchase and run dynamic remarketing campaigns that show the products they browsed during their session.
25) Run Re-Engagement Email Marketing Campaigns
Send a series of drip emails to users who didn't make any purchase from you. Offer them incentives to see if they are genuinely interested in buying from you. If they don't engage with you notify them that they will be removed from the email list.
Wrap Up
Hope this checklist has armed you with plenty of tactics to increase CRO for your ecommerce website right away. Start testing and implementing these tactics and let us know how it goes in the comments below!