Content marketing is a technique that promises positive results even with the lowest of budgets. But what's so special about content marketing, you may ask? It's simple: content marketing is the backbone of all marketing efforts and as such, demands some careful thought and consideration in order to be successfully implemented.
Once it is, it can help your brand increase its reach, improve lead generation and conversion rates, increase sales and do wonders for your bottom line. But what exactly constitutes an effective content marketing strategy and what are some the aspects you should look out for when trying to boost your conversion rates?
Aggregate your resources
Shortage of resources is arguably one of the greatest challenges faced by today's marketers, especially when dealing with organizations who have reached a specific level or growth and maturity. Fortunately, content marketing offers positive results even if you're operating with nominal resources, as long you're operating with adequate marketing tools. Considering that content marketing demands a clear strategy and dedication, building a team is not as significant as having a clear plan for content distribution and promotion.
The lack of much-needed marketing tools, however, could potentially prolong or even stall your marketing efforts. Granted, most of the marketing work can be performed manually, but this would take up a significant amount of time you cannot afford to waste. Some of the free and paid tools you can use to streamline your marketing efforts include:
Content research

: Alltop, Buzzsumo, Google Search Suggestions and, Uber Suggest

Keyword research

: Ahrefs, Google Trends, Google Keyword Suggest, and SEMRush

Content distribution

: Buffer, Contently, Feedly, LinkedIn Pulse and, Stumbleupon

Engagement tracking: Google Analytics, Mention, Kissmetrics and WVO
Define conversion-specific goals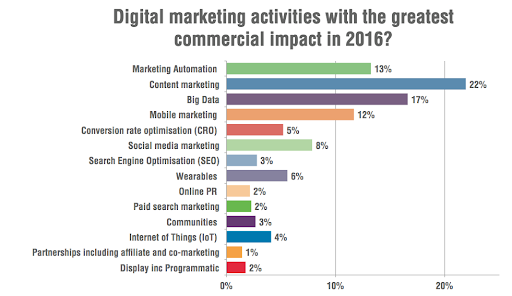 While most business and website owners rely on content marketing to drive potential buyers to their pages, there are other marketing goals that can be used as a means of assessing your campaign's success:
Increase in industry-related brand mentions

Increase in email opt-ins

Increase in social followers

Website traffic increase

Improving SERP rankings

Improving lead generation

Improving sales
Each of these goals is a viable marketing initiative in itself, but what's important is setting actionable and measurable goals. Simply asking for more traffic will get you nowhere fast, which is why you need to know exactly why your website traffic is increasing or decreasing. Once you do, you can use that knowledge to further refine your campaign for even better results. Which leads us to…
Define your KPIs
Key performance indicators or KPIs are important for business growth. They show us whether a marketing target has been achieved or not and what needs to be done in order to achieve it. They are progress indicators and when it comes to content marketing, here are some KPIs you should always be looking out for, in alphabetical order:
Bounce rates

Conversion rates

Filled-out forms

Gained subscribers

Generated inbound links

Time spent on-site

Social media comments and shares
You can check our article on 5 important metrics and KPIs for online businesses.
Choose goal-related topics for your content
Choosing just the right list topics for a successful content strategy is often business- and industry-related. Most marketers make the mistake of trying to cater to their audiences too aggressively. This ends up either underwhelming or overwhelming your target audience. Here are some of the topics you should discuss:
Customer FAQs

Current events and news commentaries

Developing trends and hot topics

Industry-related evergreen topics

Tutorials and how to's

Top listings and industry highlights

Related insights from other industries
Take a look at customers interactions to make your inspiration more diverse and always gear your topics towards the customers, instead of other industry leaders. Lastly, make sure the topics you're discussing have a tangible connection with your brand.
Streamline your campaign
Streamlining your content marketing strategy can be quite difficult, which is why most businesses rely on content scheduling and automation. Building a content calendar is excellent for organizing your posts by date and helps strategize your strategy around specific content bundles (up to two keywords per month). You should also invest some time to share content collaterals and participate in guest blogs.
Search engine optimization is a two-edged sword. On one hand, it is crucial for securing the top-ranking position for a specific keyword, but on the other, it can have potentially damaging results in not implemented correctly. Google and other search engines could easily mark your website as a spam or even worse, completely omit your pages form the search results. Avoid tinkering with SEO unless you know your stuff and instead, try filter searching SEO expert repositories based on your budget, location, team size, etc.
Social media automation can significantly improve your distribution efforts. You can use tools such as Buffer or Hootsuite to automate distribution on social media sites such as Facebook, Twitter, and LinkedIn. Your social media activity can be monitored using analytics provided by different social media platforms or tools such as Brand24 and Mention.
Distribute a wide range of content
Sticking to brand- and industry-related topics are important, but so is diversifying the types and forms of content you distribute. Avoid using the same type of content over and over again. It will end up being viewed as spam regardless of the value your content might offer. The forms and types of content you should consider creating and developing include:
Blog posts

Case studies

Infographics

News and press releases

Videos

Memes
While all the content types of this list are pretty much self-explanatory, the number one mistake businesses make is using old and unrelated memes as a means of appealing to younger audiences. It is a slippery slope unless you know what you're doing and can quickly result in ridicule and loss of brand authority.
Focus on providing value to your customers
You've probably heard this a thousand times already, but you should always strive to provide value with your content and not trying to make a hard sell. Granted, effective and valuable content does rely on strong CTAs, but the heart and soul of content marketing lie in your ability to showcase your expertise and use it bring in leads and potential customers. Place emphasis on providing value, making information easy to access, being helpful and informative and trying to help solve customer's issues. Remember, content that resonates with customers searches is content that brings in leads and sales.
Outreach programs are ideal for brand promotion and link building. It provides exposure and helps you connect with industry-related influencers. The best two channels for outreach programs are email and social media. If you're unsure on how to approach to and develop your outreach campaign, you can take a look at templates provides by HubSpot. Outreach campaigns can also be fully automated, using tools such as Gmass and Ninja Outreach.
Conclusion
Have in mind that content marketing strategies require some time to take hold and provide you with results. There's no point in rushing things and looking for quick results. Set achievable goals and whether you've managed to fail or accomplish them, use those insights to tweak your strategy. Otherwise, you'll simply be wasting valuable time and resources doing the same thing over and over again.