E-commerce is a dynamic industry. What worked in the past may not work today, and you cannot predict how customer behavior would change in the coming time. Therefore to stay ensured that you are delivering top-notch customer experience, it's necessary to try out different elements on your website.
A/B testing is a great way to understand what works for you and understand what your customers exactly want when they land on your e-commerce store. Adopting A/B testing in your strategy will dramatically improve your conversion rate, and bring you the competitive edge in the market.
1. Mention Important Details at the Top
The quickest way to establish trust within your shoppers is to clear any queries they might have. The most common hesitations customers have are around shipping, returns, security, etc. One simple way to do that is to give links to all such questions at the header along with the customer service contact number. Doing so will allow your users to get in touch with you easily and have their queries resolved. Here's how Zappos does it:
2. Static Image Versus Carousels
Carousels are famous among e-commerce websites as they allow you to showcase multiple offers one after the other. They look attractive, but one major problem with them is that of attention. With the attention spans of people becoming shorter with every passing day, they often do not contribute much to conversion. A better way is to keep a single static image on the website that showcases either your value proposition or the current major offer that you're promoting.
Of course, rather than relying on what someone says, a better solution is to test both things and use what works for you.
Here are examples of two different stores. One is using a static image and one is using a slider:

3. Highlight Price Match Guarantee
One of the quickest ways to attract visitors' attention is by highlighting discount or offer banners, but when you are sure that no one can beat you to the price you offer, you can highlight the price match guarantee on your website.
Best Buy mentions the Price Match Guarantee tag on all such products. And in case if you find it cheaper at a key online or offline competitor, they promise to match their product price to their competitor 's.
4. List View Versus Grid View
To simplify the user experience, it is a good practice to experiment with how your search results or category pages look like. You can try out list view or grid view for this as both have their benefits.
For someone who has already determined which product to buy, list view would work better as all the necessary information will be readily available. On the contrary, for a casual lurker, grid view suits the best as they can check out different products to decide what they want. In the end, choose the one that brings in the maximum conversions.
5. Highlight Fast Selling Products
Scarcity works very well for e-commerce stores when done right. If you are hesitant towards implementing it, there's a simple workaround to this. Instead of being brazen about the scarcity aspect, you can change the phrasing. You can substitute the phrase
Fast Selling with the typical quantity-based scarcity phrasing. The term Fast Selling doesn't come across as forceful, and you can use it for new, trending products as well.
Here is an example of Souled Store highlighting their fast selling products: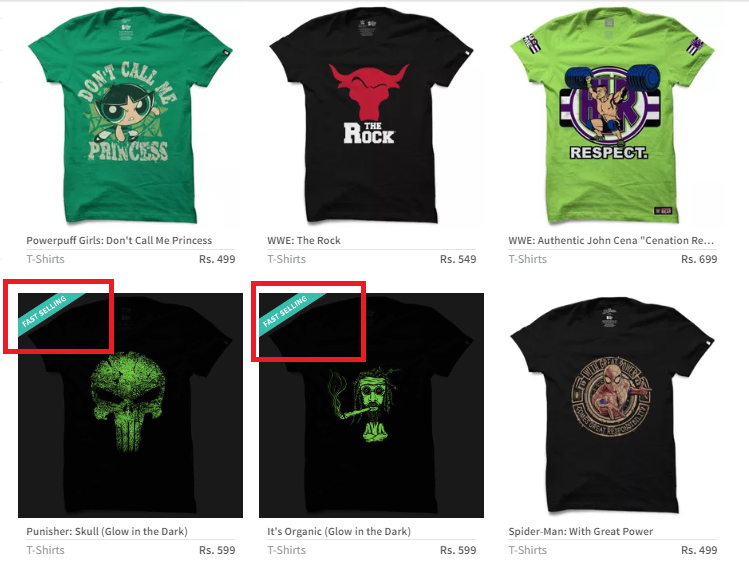 6. Single CTA Versus Multiple CTAs
To avoid confusing the user, it is necessary to give them a clear next step of action that leads them to complete the purchase. Call to action just do that. CTAs should stand out on the page and shoppers should not have a hard time finding them. Here is an example of a single CTA that acts as the primary CTA. There are still other CTAs, but they don't have much prominence as the primary one.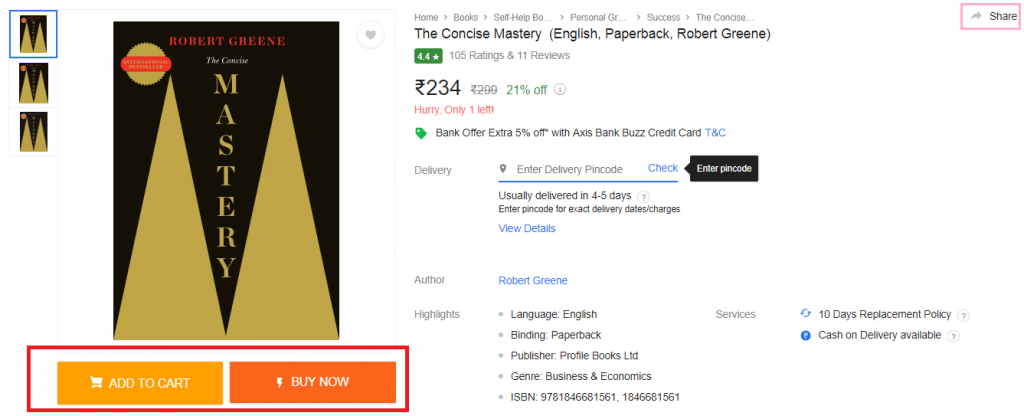 7. Test With Social Proof
Social proof (Ratings and Reviews) are treated as an integral part of a product page as it plays a huge role in influencing the purchase decision. While a majority of people read product ratings and reviews, it is a good idea to experiment product pages with and without social proof to see their impact on conversions. This tactic is particularly effective if you run a fashion e-commerce store. In the below two examples, you'll see that two different websites feature the same product, but one features reviews and one doesn't.
8. Tweak the Copy
One of the most common experiments run by e-commerce companies is tweaking the header copy or product description. There's another area where you can test the copy. With the adoption of recommender engines, almost every e-commerce brand is able to deliver a personalized experience. How you phrase the headers of these sections also matters.
For example, what Best Buy phrases Our Experts Recommend, Amazon uses Frequently Bought Together.
Try out a couple of variations to see which variation brings maximum results for you.
9. Single-Step Versus Multi-Step Checkout Process
To reduce cart abandonment, it is beneficial to experiment with single-stage and multi-stage checkouts. In the single-stage checkout, the shopper would be able to see everything on a single page hence getting a better view of the checkout process: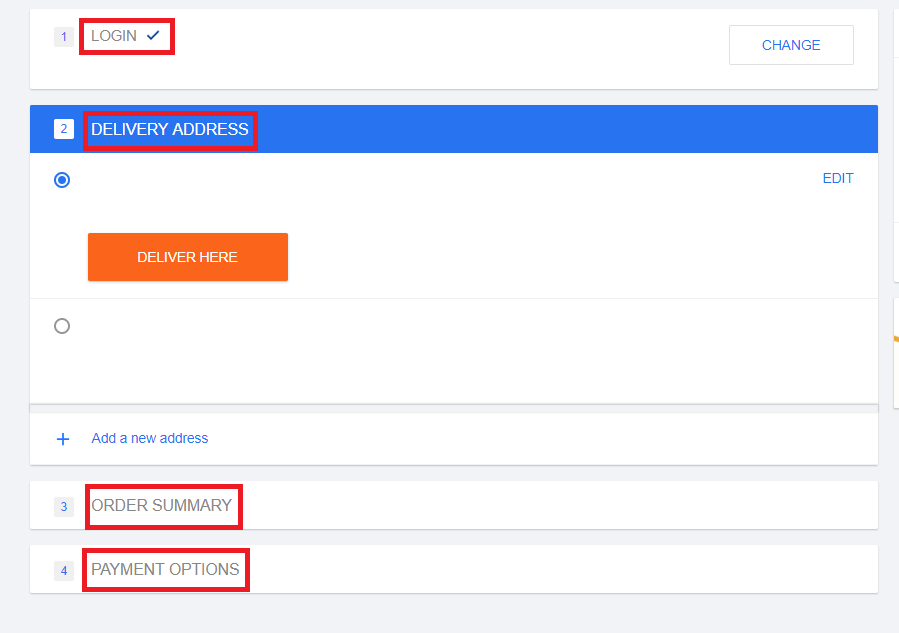 On the other hand, the multi-stage checkout just maps out the various stages of the checkout process without providing any concrete information of the fields.
Each step has its pros and cons, therefore, it is worth to test these variations before deciding on one.
10. Offer Multiple Payment Options
Most e-commerce companies allow cash on delivery and credit or debit cards as standard payment options. It works well when you are serving the local market, but if you serve international markets, you need to expand your payment options.
This happened to me a while ago when I was buying from an international e-commerce store. My card payment just wouldn't go through their payment gateway and unfortunately, I had to leave the website since there was no other payment option.
To avoid this happening, integrate alternative payment options such as PayPal, Amazon Payments or other digital wallets.
Conclusion
You will find many tactics on the web that promise you to increase your conversion rate by 221% and so on. And when you implement them, you don't even get a fraction of the promised results. That's because each e-commerce is different and every shopper behaves differently. The only way to get good at this is to adopt the continuous test and optimize mindset.
Let us know which idea are you going to test out next!